Our practice is based on the CT Early Learning and Developmental Standards and the Connecticut Preschool Assessment Framework. Both guide and inform our staff's self-designed curriculum.  We embrace a play-based and discovery center-based approach to supporting the learning and growth of young children's minds, bodies, and spirits.  During each class session, children will experience a balance of self-directed play with a variety of materials that are intentionally prepared and selected by teachers to encourage physical, cognitive, social/emotional, and creative growth, along with teacher-led lessons and activities.  Our curriculum addresses every aspect of a child's developmental learning including cognition, social and emotional development, physical development, language and literacy, creative arts, mathematics, science and social studies.
Each of these learning areas is on a continuum that children move along as they learn and grow. As an example, on the math continuum, children gradually increase their understanding and complexity for the task of sorting: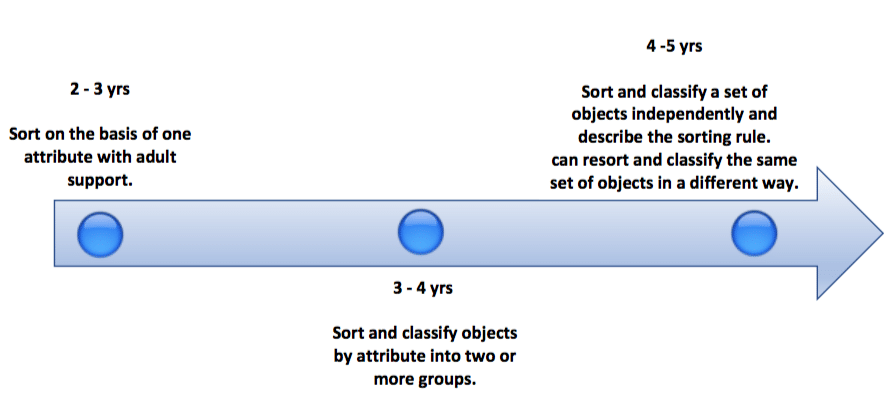 A Look at Concepts Covered by Grade Level
2s:
Socialization & Interpersonal Skills
Separation
Self Help & Independence
Potty Training Support
Begin to Recognize #s 1 – 10
Learn 8 Basic Colors
Learn 8 Basic Shapes
Begin to Learn Alphabet
Hand-Eye Coordination Activities
Gross Motor Skills Activities
Improve Language Skills
Stamina for Group Activities
Simple Arts & Crafts Projects
3s:
Separation From Parents
Self-Help & Independence (jackets, zippers, etc)
Interpersonal & Socialization Skills
Understand & Follow Directions
Name Recognition
Number Recognition up to 10
Patterns, Sorting & Sequencing Introduced
Size Concepts (small, large, medium, tiny, big)
Use of Crayons, Markers & Paint Brushes
Scissors Skills
Large Motor Skills Development
4s:
Same, Different & Opposites
Sequencing & Patterns
Position Word Concepts
Letter / Sound Associations
Sight Words & Word Families
Write First & Last Name
Upper & Lower Case Letters
Number Recognition up to 20
Adding & Subtracting Using Manipulatives
Small Motor Skills Mastery (scissors, pencil grip, etc)
Calendar Concepts (days of the week, months & holidays)
Independence & Self Help Skills
Empathy & Consideration for Others
Pre-K:
Sorting by shape, color & size
Patterns: AB, AABB, ABC
Phonics & Sight Words
Draw Pictures & Dictate Sentences About Stories
Matching: Symbols, Shapes, Patterns, Sizes, Etc.
Time & Money Concepts
Handwriting – Left to Right
Units of Study Such as Animals, Human Body, Dinosaurs, Reuse/Recycle
Art Methods Such as Painting, Weaving, Collage, Sculpture
STEM Activities
Movement
In addition to ample time on the playground, children meet with Miss Sally in our spacious indoor gym to work on gross motor skills: balance, flexibility, rhythm, and increasing their upper and lower body strength. We have ample equipment including parachutes, jump ropes, balls, indoor tricycles and basketball hoops.
Acting Out
Ms. Karen and Chester, her trunk full of innovative costumes, puppets and props set the stage to bring stories to life. This interactive creative dramatics program educates and entertains while everyone shines like a star!
Science
Our resident RN, Nurse Dana, explores a variety of Science units including our Solar System, the Human Body, Seasons & Weather Patterns.
Music
Music classes are held each week for all of our classes. Children sing, dance and play instruments with the guidance of our expert music teacher, Miss Marcia.